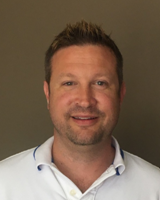 Tucker Live in the Afternoon
I've been called Tucker my whole life when not being called by my nickname.  I was raised on the beach and have lived from Florida to California and a few places in between with two things always constant: my love for water and great music.  Nothing better than being on the beach with music and my 8 year old "son" Bosley…  who is a black lab for the record.
I got my love of music from my mom who got me started when I was very young.  I performed with our church choir as well as various chorales and musical productions growing up and continued performing in venues in Florida and California as an adult.  Although I took a break from performing I miss it and plan to at least start doing some bad karaoke if necessary!!
 It was these passions that forged some great bonds in the radio industry where I did "cameos" and consultation until finally being a regular on air personality starting in New Orleans.
 Aside from being on air I have spent time in sales working with clients to create unique brand campaigns.  I have also worked with promotions doing remotes and concerts as well as programming and traffic to create and schedule commercials.
 I love the scene and being able to listen to music as a job on a daily basis while sharing that passion with listeners with my quirky sense of humor.  I love meeting people and experiencing new things and radio is a great avenue to meet amazing people and create great memories.  Thank you listeners for letting me do what I do!!